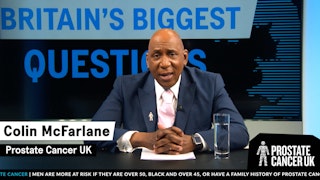 Prostate Cancer UK // 'What on Earth is a prostate?!'
Prostate Cancer UK
Prostate Cancer UK // 'What on Earth is a prostate?!'
The most common cancer in men starts in a place half know next to nothing about. That's why Prostate Cancer UK teamed up with Hollywood actor Colin McFarlane and went out on the streets asking "What on Earth is a prostate?!"
The tongue-in-cheek campaign drove over 110,000 men to check their risk with Prostate Cancer UK's online risk checker. 83% of those men were at higher risk- meaning they were over 50, Black and over 45 or had a family history of prostate, breast or ovarian cancer- and were encouraged to speak to their GP about having a PSA blood test. More than 1 million people have completed the risk checker since it was launched two years ago.
The campaign worked to reach men in the areas of the UK where the most late diagnosis for prostate cancer occur, which are Scotland, the North West and the Midlands. Whilst in London just 1 in 8 men (12.5%) with prostate cancer are diagnosed with metastatic disease, whereas in Scotland more than 1 in 3 (35%) are diagnosed late, at stage 4. The campaign reached over 1. 5 million men in these areas through newspapers, radio, social media and online news, delivering vital information to help men know more about their risk of prostate cancer and what they can do about it.
During the campaign, Prostate Cancer UK saw a 139% increase in people visiting its website to find out more about the most common cancer in men and the support the charity provides.
The campaign video on Prostate Cancer UK's social media channels saw over 40,000 engagement, and positive customer feedback on the campaign increased by 33% compared to the Father's Day campaign Prostate Cancer UK ran in 2022.